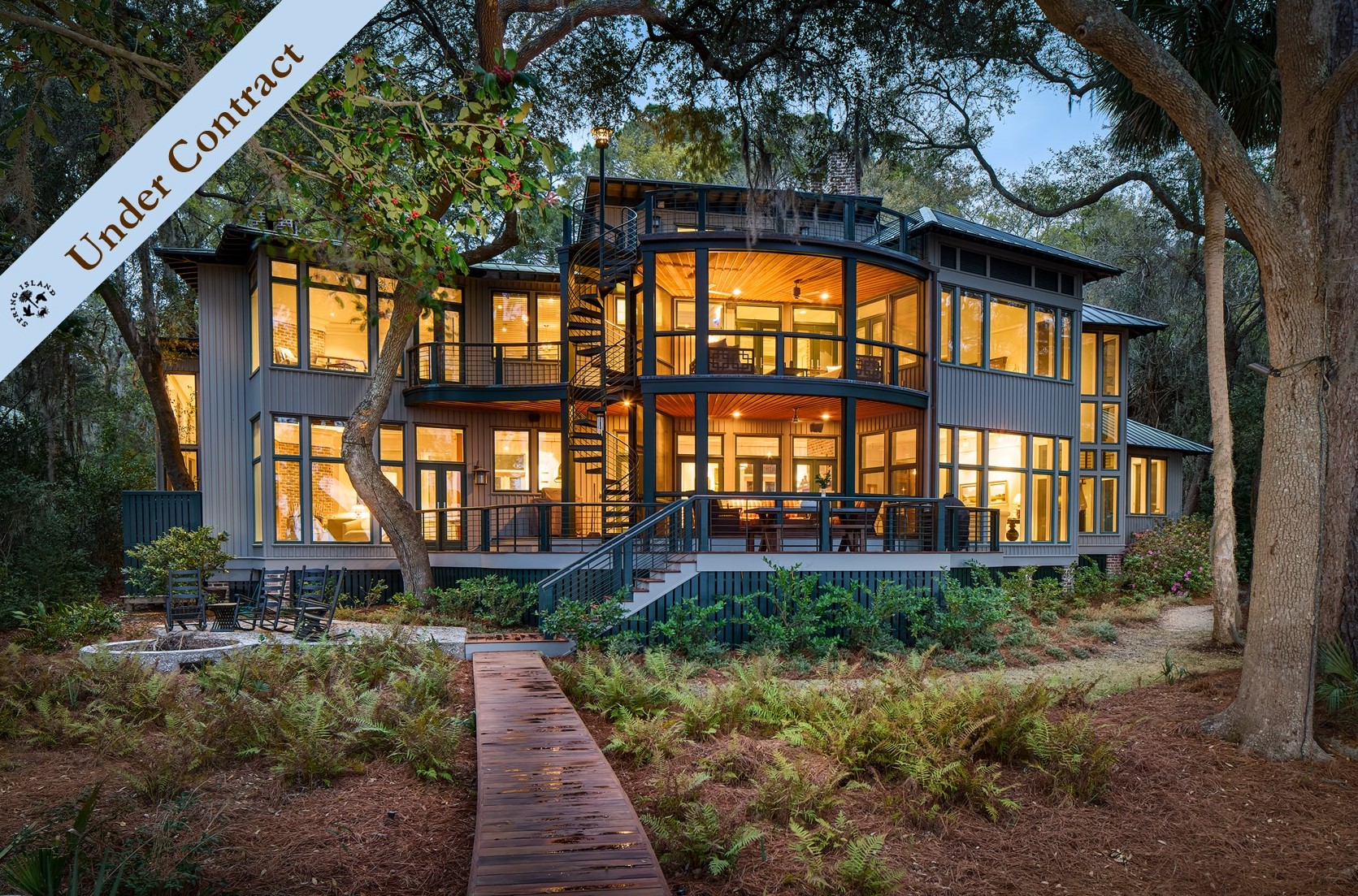 DESCRIPTION
Expansive, stunning views of the Colleton River from every room together with dramatic styling, a superb waterfront location on Spring Island, and a deepwater dock set this home apart. The compound at 1 Copp Landing is an ideal retreat, consisting of a main house, two-story guest house, and garage all surrounding a central arrival courtyard.

This multiple award-winning, architectural masterpiece was designed by Michael Frederick of Frederick + Frederick Architects. The home's wonderful blend of both contemporary and traditional styles has a meticulously designed layout with walls of glass on the river side to capture the everchanging character of the Colleton River. The great care given to maximize the views is immediately evident when entering the arrival courtyard as the house appears to be transparent as light dances on the river. Seen from the Colleton River, the dramatic expanse of glass on the home's river side creates the look of a giant sculpture. An outside circular staircase leads to a third level rooftop widow's walk, a place offering unparalleled views.

The craftsmanship of the team at MJR Builders is equally impressive with mahogany doors, cherry floors, Ipe porches, decks, and walkways, antique brick fireplaces, built-in cabinets throughout, extensive casework, transoms, and a cantilevered cherry staircase contributing to the illusion of transparency.

Cabinets and a fireplace divide the open plan into spaces for the living room, dining room, and the beautiful kitchen/family room and pantry. At opposite ends of the first floor are two large offices. The master suite is located on the second floor and features a fireplace in the bedroom, a sumptuous marble bath with radiant heat marble floors and an inviting sleeping porch. Also on the second floor is a guest bedroom with access to a river side balcony sitting area and porch.

The two-story guest house has a living area with a mini kitchen, porch, two bedrooms and a bath on the ground floor and two bedrooms and a bath on the second floor. On the opposite side of the courtyard, a building connected by a breezeway to the main residence contains an exercise room, an oversized two car garage, dog washing station, and a workshop area.

One look at the quality of materials, meticulous detailing and the spaces that have been created and it is easy to understand why this home was awarded the South Carolina AIA's prestigious Robert Mills Award for architecture.